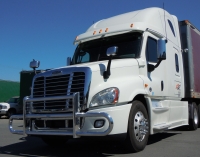 Magnum Aluminum Tube Bumper #17141
Fits 2008+ Freightliner Cascadia Series
Fits trucks with Standard Radiator
Engineered to overcome the shortfalls common in this style of bumper, Magnum has gone above and beyond to create a solution that is truly unique in its field. The Magnum Tube Bumper offers a quick installation, lighter weight, but formidable option for added bumper protection. As a lower cost option than the Magnum Moose Bumper, this product is designed with both fleet and owner operators in mind.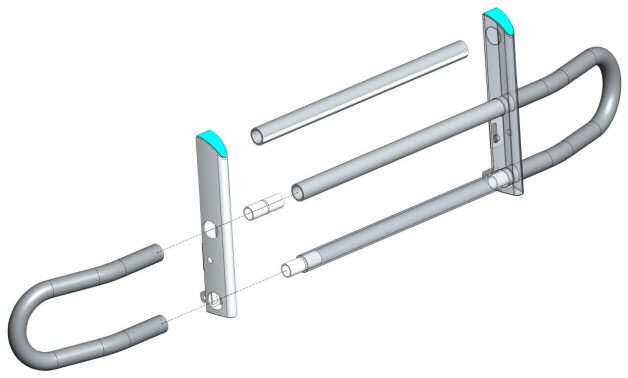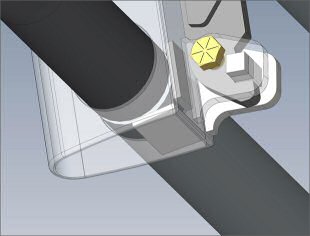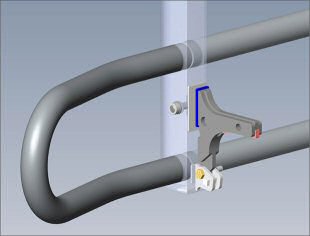 Mounting System
The T1 steel mounting system for the Magnum Tube Bumper conveniently bolts on to factory mounting points for a quick installation, often in under 10 minutes. These OEM hard points provide an exceptionally strong base for the adjustable wedge insert. This dual wedge insert expands in both directions to keep the Tube Bumper stable, secure and rattle free.
Latch
The dual cam-lock is a self-contained internal latching system, free of pins, clips or rubber straps that could become lost, broken or lose their effectiveness. The easily accessible rotating lock tabs allow for a simple folding operation that allows full access to the truck for servicing.
Splice tubes
Engineered for superior strength and toughness, the three inch, 'schedule 80' bumper tubes are inserted through the vertical beam and not merely welded to the surface. All segments of the bumper loop are aligned and reinforced by heavy wall, tight fitting inner splice tubes and then further welded to the vertical beam.
Design, Material and Weight
The Magnum Tube bumper is constructed from high strength aluminum for durability and come polished with a mirror like finish. This lightweight bumper, often less then 100lbs, sacrifices nothing in regards to safety. The fully engineered aluminum assembly features 'schedule 80' three-inch tubes along with our vertical beam extrusion that adds strength and style with a distinctive visual appeal.
About Magnum Bumpers
Magnum bumpers -- manufactured in North America -- protect drivers, trucks and the investment in both. Our bumpers eliminate costly repairs associated with animal impacts and contribute to reducing down time, ensuring deliveries arrive on schedule.
All Magnum bumpers are custom engineered to fit each unique truck model. Our bumpers are precision fit for an easy bolt on installation, preserving the structural integrity of the truck. Built from high strength aluminum, all bumpers incorporate an internal steel mounting assembly.
Each Magnum bumper leaves our factory with a mirror like, high polished finish. In many jurisdictions, insurance providers offer reduced rates or discounts for trucks equipped with Magnum animal impact protection.
Product
Price
Order
Magnum Aluminum Tube Bumper #17141


Fits 2008+ Freightliner Cascadia Series


Fits trucks with Standard Radiator
$1475.00
Add to Cart