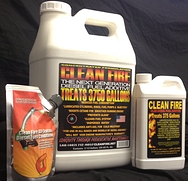 Clean Fire Diesel Fuel Additive
2.5 Gallons. Treats 3,750 Gallons of Diesel Fuel.
Vince Tornelli says:
"We have used Clean Fire and it is nothing short of amazing. We had a small diesel in a bus that wouldn't start. They worked on it for a week. Sometimes it would run and others it wouldn't. They towed it in. Then one of the guys said let's try Clean Fire because something might be sticking in the pump. They put some in the fuel filter and it cranked up and never had any more problems."
REDUCES FUEL CONSUMPTION
LUBRICATES RINGS, FUEL PUMPS & INJECTORS
STABILIZES FUEL
CLEANS FUEL SYSTEM
PREVENTS ALGAE
INCLUDES ANTI-GEL FOR COLD WEATHER
DISPERSES WATER SAFELY
BOOSTS CETANE FOR SMOOTHER RUNNING ENGINE
INCREASES FUEL MILEAGE
PROLONGS FUEL FILTER LIFE
FOR USE IN ALL MAKES AND MODELS OF DIESEL ENGINES
WILL NOT VOID ENGINE MANUFACTURE'S WARRANTIES
Product
Price
Order
Clean Fire Diesel Fuel Additive
2.5 Gallons. Treats 3,750 Gallons of Diesel Fuel.
FREE Shipping
$228.00
Add to Cart