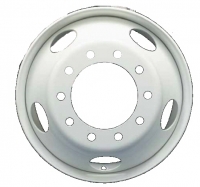 Accuride Accu-Lite Steel Wheels #50379
24.5 X 8.25. 10 Hole. Hub-Pilot Mount. 2 Hand Holes.
FREE SHIPPING! to a commercial address on orders of 16 wheels or more
(Contiguous 48 United States only.)
Call (386) 428-0841 for details.
As a leader in wheel technology, Accuride Wheels has raised the standard of steel wheels by lowering the weight of its two and five hand hole design to provide solutions to the medium and heavy truck industry.
Accu-Lite is actually 8 lbs lighter than its standard two and five hand hole predecessor That translates to a savings of at least 144 pounds for tractor / trailer combinations. And, it looks exactly the same as Accuride's standard two or five hand hole design.
Benefits Include:
Additional payload
Fuel savings
Interchangeable with Accuride's standard ESW
Helps offset additional weight of 2007 emissions equipment
Product
Price
Order
Accuride Accu-Lite Steel Wheels #50379
24.5 X 8.25. 10 Hole. Hub-Pilot Mount. 2 Hand Holes.
$113.40
Add to Cart