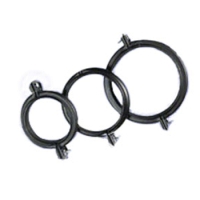 Balance Masters Drive Shaft Balancer #DS-2 1/4 - 2 3/8
Circumference: 7 – 7 7/17
Balance Masters®, the same dependable Active Balancing System for truck wheel/tire assembly since 1979, is now available for Driveshafts. This Active Balancing System has been engineered to fit most heavy-duty trucks, buses, vans and motorhomes.
Balance Masters® are mounted at one end of the driveshaft approximately 1 to 6 inches from either end. This patented liquid metal (mercury) technology, works by centrifugal force to help increase bearing life and reduce the running vibrations up to 50% or more, they are made to last and are maintenance free.
Balance Masters® works at all speeds while you drive and helps to eliminate costly and inconvenient down time. The patented liquid material (mercury) is not affected by weather or temperature extremes and have no parts to break, wear out or dry up and have a 2 year limited factory warranty against material defects. Balance Masters® Active Balancing Systems is the Ultimate in on-board balancing devices!
Installation Instructions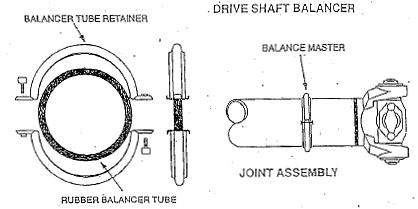 Notes:
It is not necessary to pre-balance your drive shaft.
Balance Master can be mounted on either end of the drive shaft.
All Balance Masters drive line products should be installed by a qualified drive line mechanic.
Caution: Do not attempt to re-tap self locking pinch nuts.
Remove one end of the drive shaft from vehicle.
Remove screws from Balance Master and remove rubber balancer tube from assembly.
Gently stretch rubber balancer tube over U-joint and position approximately 1 to 6 inches from end of drive shaft.
Place both halves of the balancer tube retainer over the rubber tube and replace and tighten the two screws.
Product
Price
Order
Balance Masters Drive Shaft Balancer #DS-2 1/4 - 2 3/8
Circumference: 7 – 7 7/17
FREE Shipping
$105.60
Add to Cart