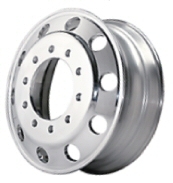 Accuride 22.5x8.25 10-Hole Aluminum Wheel with Accu-Shield Finish #41644XPC
(B) Accu-Shield finish, FRONT AND REAR wheels. Quality product, bright shine.
Brand New!
Hub Pilot (Uni-Mount) Aluminum Wheels
Incredible Price!
Accu-Shield Finish
ACCU-SHIELDŽ wheels have a noticeable bright, clear appearance.
ACCU-SHIELD wheels are easy to clean - just use mild soap and water.
Save time and money with ACCU-SHIELD wheels, aluminum polishes are unnecessary.
FREE SHIPPING! to a commercial address on orders of any quantity
(Contiguous 48 United States only.)
Call (386) 428-0841 for details.
Product
Price
Order
Accuride 22.5x8.25 10-Hole Aluminum Wheel with Accu-Shield Finish #41644XPC
(B) Accu-Shield finish, FRONT AND REAR wheels. Quality product, bright shine.
FREE Shipping to a commercial address
$450.00
Add to Cart