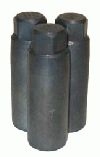 Tru-Balance Centering Pin Set #A-1557
For Steer Axles. 3" Pin Length. Same as A-1339 but with 0.10" smaller outside diameter.
This is a reusable tool that is used at the 12, 4 and 8 o'clock positions when mounting the tires. Once the wheels have been mounted, the three centering pins are removed.
The pins are made of hardened steel to ensure durability and threaded inside for proper alignment and easy removal of the tool. One set includes three centering pins.
19.50"/22.50"/24.50" Wheel
22mm Wheel Studs
1.052"-1.063" Wheel Hole
Steel & Aluminum Wheels
Reuseable Shop Tool
Hardened Steel
Sold In Sets of 3
Storage Case Included
Product
Price
Order
Tru-Balance Centering Pin Set #A-1557
For Steer Axles. 3" Pin Length. Same as A-1339 but with 0.10" smaller outside diameter.
FREE Shipping
$195.80
Add to Cart