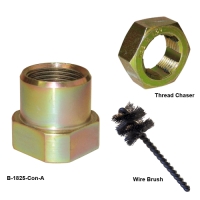 Tru-Balance Internal Centering Sleeves #B-1825-CON-A-K
Includes Thread Chaser and Wire Brush. For Aluminum Steer Wheels and ConMet Brake Drum 1.34/1.37 Hole
This wheel centering sleeve set is for use on STEER WHEELS ONLY. These sleeves stay on the wheel permanently and center the brake drum (universal brake drums) as well as the wheel. These sleeves are threaded inside for proper alignment and are used at the 12, 4 and 8 o'clock positions. One set includes six sleeves and will center one axle. (Use three sleeves per wheel) We offer many different sizes to fit most brake drum and wheel applications. Read the product descriptions and product specifications below to see which sleeves meet your needs.
You will need to know your brake drum number to determine which internal sleeves will fit your truck.
NOTE: YOU MUST HAVE THE CORRECT BRAKE DRUM NUMBER FOR YOUR TRUCK. Our Solution "B" sleeve sets are sized to fit with specific brake drums. The shoulder that centers the brake drum SHOULD NOT PROTRUDE past the brake drum.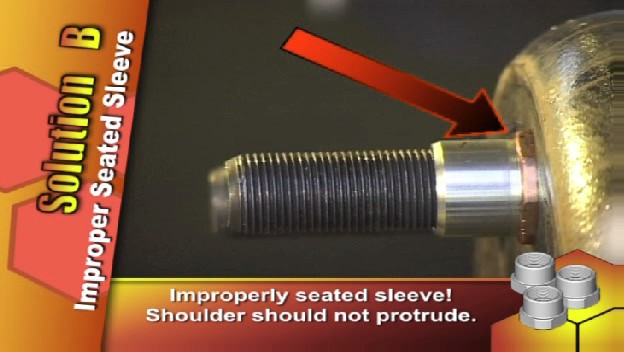 INCORRECT INSTALLATION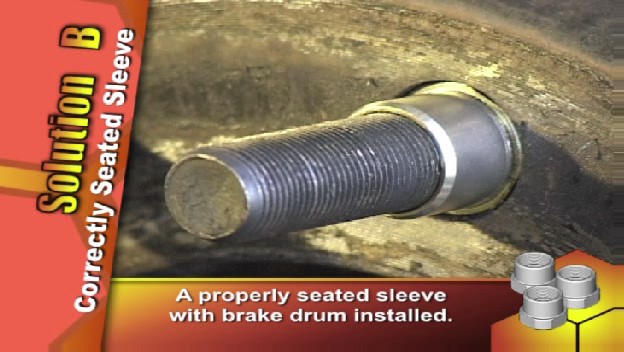 CORRECT INSTALLATION
To find your brake drum number:
Call your truck's manufacturer
Ask for the parts department
Give the last eight digits of your truck's VIN number
Have them look up the Line Set Ticket or Build Sheet
Ask for brand and part number of the steer axle brake drums
Specifications:
Aluminum Wheels Only
Steer Axles Only
1.34"-1.37" Hole Diameter - 1/2" Hole Depth
Features:
Stays On Wheels
Zinc Plated To Resist Corrosion
Sold In Sets of 6 Per Axle
Machined from Solid Steel Bar Stock
Threaded Inside for Accurate Alignment
Supported Brake Drums:
Conmet
Warranty:
1 year from date of purchase to be free of defects in materials or workmanship.
Product
Price
Order
Tru-Balance Internal Centering Sleeves #B-1825-CON-A-K
Includes Thread Chaser and Wire Brush. For Aluminum Steer Wheels and ConMet Brake Drum 1.34/1.37 Hole
FREE Shipping
$191.00
Add to Cart